Exceptional Performance RTV's and UTV's
Our new partnership with www.bossorv.co.uk strengthens our UTV offering. Corvus UTV's provide functional and rugged UTV's suitable for all types of terrain. Perfect for municipal, professional groundcare and equestrian use, these pocket rockets tick all the boxes.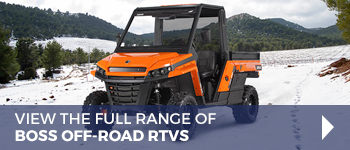 Kioti RTV'S also adding to our expansive UTV range, Kioti K9 models are reliable and a heck alot of fun! Available in different specifications to meet your needs.