KUHN fertiliser spreaders adapt to all kinds of work: spreading fertiliser across open fields, along field edges and marginal zones, late fertilisation, and application to special crops.
All KUHN fertiliser spreaders offer incomparable precision and ease of use.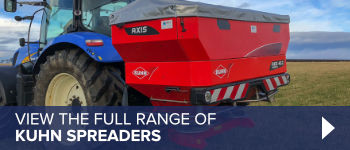 KUHN sprayers are fitted with the most advanced technologies and ensure efficient application of optimum quality.
They are equipped with a piston diaphragm pump that ensures precision and reliability. Their manual, electric and electronic controls provide an application of great precision. The tanks are made of highly resistant polyethylene with ultraviolet stabilizer.